Not good enough, insecure, anxious, afraid of being found out
.
Many people have these feelings as they go about their work.
Even when, intellectually, you know you have experience and have been doing the job, you are still haunted by the worry "Will they find out that I'm not good enough and I shouldn't be doing this?".
This feels bad. It's frustrating. It has many very negative effects.
How do we break this vicious cycle of self doubt?!
Am I an Imposter? This free resource starts with 10 simple questions to help you to self-assess how badly you are affected by imposter feelings and behaviours.
The pdf ebook reveals simple and effective first steps to outgrow your imposter today.
There is a part of you that knows there is a better version of you just waiting to emerge…
Add your name & email to the form to get access now!
You really can move beyond your imposter feelings.
Get Your Free Copy of "Am I an Imposter?"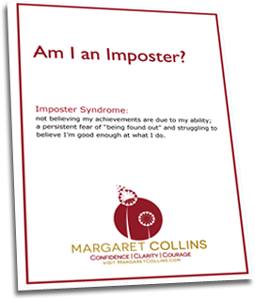 Get your copy delivered straight to your Inbox.
Fill in the form and click the button.
Ticking the box above confirms that you are granting Margaret Collins permission to send you a copy of her free eBook and occasional emails.
You will be able to unsubscribe at any time via link at the bottom of each email.
For more details please see the privacy policy.