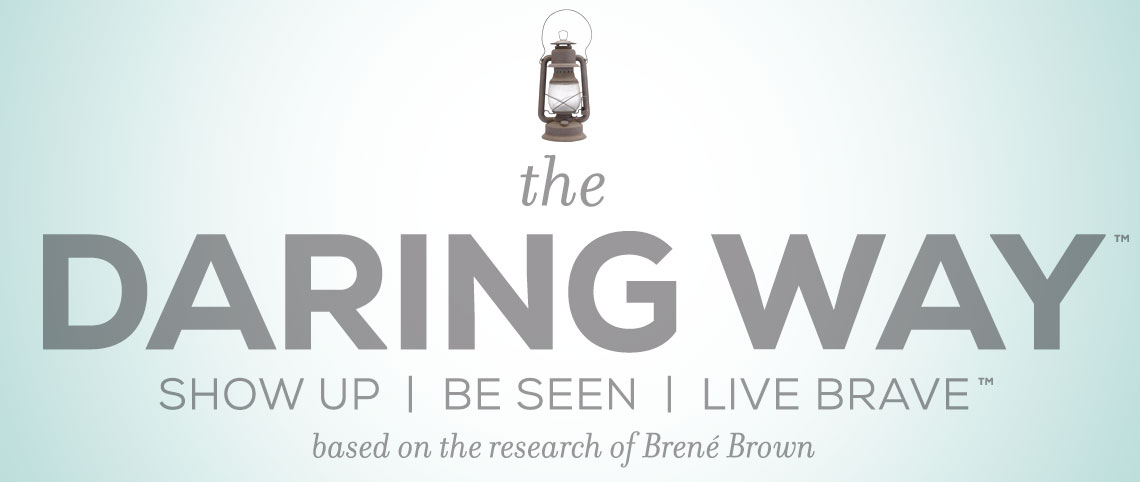 The pace of life often feels unreal.
Is the mantra "Do more, do it faster, do it with less."?


Do you feel exhausted by the effort to be good enough? Are you tired of running simply to keep up – with work, with life and those proverbial Jones's?
Then you may be ready to hear and act upon the wisdom of Brené Brown.
If you're ready to give up on wearing busyness as a badge of honour and prepared to "Show Up | Be Seen | Live Brave™ then come along and learn about wholehearted living through workshops based on the content of Brené Brown's books Daring Greatly and Rising Strong.
Are you one of the "wholehearted"? In her research studies Brené Brown noticed two groups of people. Many people struggled with feelings of self-worth or self-criticism. A smaller group of people knew that while they may be far from perfect, they are flawed and still good enough. Brené recognised and described this groups as the "wholehearted".
In looking at the things that are part of the lives of these wholehearted people she saw ten practices, things to do, ways to think, attitudes. As we journey to own ourselves and to celebrate our lives we too can look at how we include the "Guideposts to Wholehearted Living" in our own day to day living.
I am a certified practitioner, trained to deliver Brené Brown's research in formal or informal seminars. I use her resources in coaching relationships and facilitate longer workshops for small groups. The findings of Brené Brown are transforming our conversations about courage and vulnerability, about shame and resilience, about falling and getting up once more.
ABOUT THE DARING WAY™

The Daring Way™ is a highly experiential methodology based on the research of Dr. Brené Brown. The method was designed for work with individuals, couples, families, work teams, and organizational leaders. It can be facilitated in clinical, educational, and professional settings.
During the process we explore topics such as vulnerability, courage, shame, and worthiness. We examine the thoughts, emotions, and behaviors that are holding us back and we identify the new choices and practices that will move us toward more authentic and wholehearted living. The primary focus is on developing shame resilience skills and developing daily practices that transform the way we live, love, parent, and lead.
Further information is available at www.thedaringway.com.
Daring Greatly: How the Courage to Be Vulnerable Transforms the Way We Live, Love, Parent, and Lead.
The book title was inspired by a quotation from Theodore Roosevelt:
"It is not the critic who counts; not the man who points out how the strong man stumbles, or where the doer of deeds could have done them better. The credit belongs to the man who is actually in the arena, whose face is marred by dust and sweat and blood; who strives valiantly; who errs, who comes short again and again, because there is no effort without error and shortcoming; but who does actually strive to do the deeds; who knows great enthusiasms, the great devotions; who spends himself in a worthy cause; who at the best knows in the end the triumph of high achievement, and who at the worst, if he fails, at least fails while daring greatly."
Rising Strong: the Reckoning, the Rumble, the Revolution by Bren

é

Brown
"The physics of vulnerability is simple: If we are brave enough often enough, we will fall.
This is a book about what it takes to get back up and how owning our stories of disappointment, failure, and heartbreak gives us the power to write a daring new ending. Struggle can be our greatest call to courage and Rising Strong, our clearest path to deeper meaning, wisdom and hope."
ABOUT BRENÉ BROWN
The Daring Way™ method is based on the research of Brené Brown, Ph.D. LMSW. Dr. Brené Brown is a research professor at the University of Houston Graduate College of Social Work. She has spent the past twelve years studying vulnerability, courage, worthiness, and shame. Her groundbreaking research has been featured on PBS, NPR, CNN, and Oprah Winfrey's Super Soul Sunday. Brené is the author of two #1 New York Times bestsellers; Daring Greatly: How the Courage to Be Vulnerable Transforms the Way We Live, Love, Parent, and Lead (2012), and The Gifts of Imperfection (2010). She is also the author of I Thought It Was Just Me (2007). Brené's 2010 TEDx Houston talk "The Power of Vulnerability" is one of the top ten most viewed TED talks in the world, with over 14 million viewers. Additionally, Brené gave the closing talk at the 2012 TED conference, where she talked about shame, courage, and innovation. Further information is available at www.brenebrown.com.