How are you doing this week? I've had an exciting time with my new cohort of "Imposter Syndrome Sources and Solutions" participants. It is so rewarding to see people as they have that moment of insight… "Ah, yes, that…!". We uncovered some powerful limiting beliefs this week. People really seeing that change is possible for them is so exciting. If you didn't sign up this time, do take time to find out more and sign up for the priority notification list for the next cohort in 2021!
Sign up here!
Change is certainly possible when you're prepared to expand your comfort zone a little, take a chance, do something different. And yet, many of us find ourselves, still here, again. If "being here" really made us happy I'd not really be commenting on that – but that's not what the research shows.
Many of us are basically OK, we live comfortably, we have friends and/or family that we love, we have a job or a business that pays for the rent and the holiday, we can't complain – but somehow life's not that good, something's missing and we know it. It's like wearing a perfectly good jacket that doesn't quite feel right… we know we liked it when we bought it, probably thought we'd grow to like it better as time went on but now we find it in the wardrobe… it doesn't offend us enough to actually throw it out but we don't willingly wear it either!
Apparently over 80% of people report that they feel they haven't found their perfect place in life – they feel they are in the wrong job. If you ask many people they will tell you that they're under-utilising their skills, resources and selling out on passion.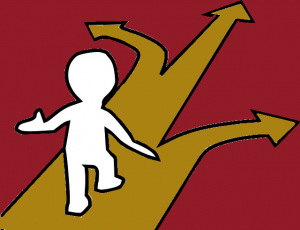 What about you?  Are you in that "middle zone", happy but not happy at the same time? Do you believe (or hope) that it's just a matter of time before you discover what you're really meant to be doing with your life and then – once you know – then you'll throw all your energy into following the path you were destined to take. Until then well maybe you'll just carry on here for a while, it's not that bad, it's familiar and it pays the bills. But what's the point of it all?
Much traditional career planning was centred around identifying the one true path for you – and then creating a structure to follow it through. But how many of us are still waiting to discover that one true path? And while we wait we're asking ourselves "Is that all?".
While I believe each of us has our own personal mission in life, I'm not sure that there is only one true path waiting to be discovered. Looking at my own life, talking with friends, listening to clients, I have come to suspect that there are many possible routes to happiness and fulfilment open to us. The route that our path takes may involve several different skills, careers and roles as we grow and mature. But how do we know when it's time to move on – and where do we go to?
"Life should not be a journey to the grave with the intention of arriving safely in a pretty and well preserved body, but rather to skid in broadside in a cloud of smoke, thoroughly used up, totally worn out, and loudly proclaiming "Wow! What a Ride!" wrote Hunter S. Thompson.
For a lucky few, the radical change is possible and successful. For most of us, this "burning the boats" sort of experience is just too scary to contemplate. So what do we do? Stay put until our courage grows? Well, that's one possibility if you have more patience than ambition!!
There are times when it is appropriate to "Feel the fear and do it anyway" (Susan Jeffers) and just jump in there but more often life requires baby steps, pushing the boundaries of the comfort zone little by little…
Most people I know who've made a successful career transition or lifestyle change haven't rashly risked all… there has been a long time playing with the idea of doing something different. This might be preceded by reflection on what matters most, on finding possible options that align with personal values or activities which are a source of inspiration. Many months or even years may be invested in trying it out, doing  it as a hobby, dipping a toe in the waters, trying out during the holidays or even part time. For several years one of my friends has spent two weeks of her holiday working in New York as she decided whether she wanted to emigrate. It's a strategy that seems to work. Sometimes the final answer is, "Yes, I like this, I'll burn that boat!" on other occasions it's "Great hobby but I'll not give up the day job." either answer being a positive answer.
So go on, what are you waiting for – find a way to dip your toe in the water. Do let me know what you're going to try!